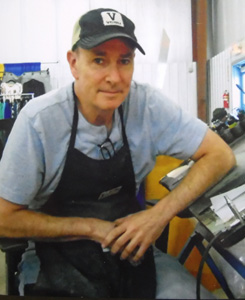 I've been drawing professionally for over 20 years. I got my start drawing caricatures with Steve and Gary Fasen at Six Flags Great America north of Chicago. That's also where I learned how to airbrush. Those were interesting times, and I made a lot of friends and worked alongside several talented artists. Over the years, I've estimated that I've drawn about 40,000 caricatures. I've had a lot of fun doing it, and hopefully I have created some fun keepsakes for people.
In general, I like the idea that I've been able to express my own perspectives on life with my drawing, whether it's creating caricatures, greeting cards or other humorous illustration.

CARICATURES AT EVENTS can be a great time. I always hear someone at an event say how much they appreciate the opportunity to get drawn without the expense and hassle of having it done at a theme park. It attracts a lot of attention and gives people a souvenir to take home that will be worthy of some fun conversation. I particularly enjoy drawing caricatures at college events, and I've traveled to campuses all over Illinois. I can pass along references from student activities advisors who can vouch for how popular my visits are. I can draw black and white caricatures in about 6 minutes per head, and I bring all of my own supplies, including bags in which to put the finished drawings. All you supply are the faces and a reasonably well-lit place to draw. Contact me to learn my hourly rate. I respectfully decline kids parties and family barbecues, which might be fun to attend but not necessarily to draw at.
CARICATURES FROM PHOTOS are unique gifts for any family member, teacher, coach, or VIP you want to celebrate with humor. As with any illustration project, after hearing your idea and the amount of detail involved, I can quote you a price.
Email or call me for more information and make sure you identify what you are contacting me about so that your correspondence receives my attention.
Looking forward to hearing from you,
Kevin Berg
Genoa, IL
kbergcaricature@yahoo.com
815-901-1145